7 Best Beet Supplement Options In 2022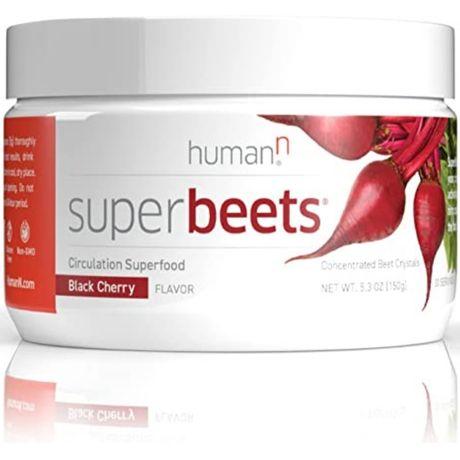 When thinking about what kind of vegetables you're going to eat for your workouts, beets probably aren't the first thing to come to mind. But, they should be.
Beetroots are a versatile vegetable, also considered a superfood since they can help your body to regulate digestion, lower blood pressure, promote healthy nitric oxide levels, support proper energy levels, aid better cardiovascular health and maintain a good weight. 
Instead of preparing and eating beets, many people take beet supplements to reap the benefits more efficiently. 
With so many beet supplements on the market, you may struggle to choose the right one. To help out, we've looked at some of the most popular beetroot powder supplements and then narrowed them down to the top 7.
Let's not beet around the bush and get right into it. 
7 Best Beetroot Powder Supplements
Best Beetroot Powder Supplement: HumanN SuperBeets Powder
Best Budget Beetroot Supplement: BulkSupplements Beet Powder
Strongest Beetroot Supplement: BioBeet®
Best Beetroot Tablet: Bronson Beet Root
Best Beetroot Blend Supplement: 1MD Nutrition CardioFitMD
Best Beet Gummy Supplement: HumanN SuperBeet Heart Chews
Best Bioavailable Beet Root Supplement: NusaPure Beet Root
1. Best Beet Supplement: HumanN SuperBeets Powder
SuperBeets from HumanN is the first flavored beetroot powder on our list that also provides a highly concentrated dose to support healthy blood circulation and enhance athletic performance.
HumanN is a popular seller, with over 5 million units sold! This is probably because each tasty spoonful is supported by science to provide daily plant-based circulatory support and a nitric oxide generation boost. This beet supplement is a patented plant-based, clinically tested blood pressure support powder that cannot be duplicated by anyone else. 
HumanN's beet supplement is stimulant-free, so you can be confident knowing that you will be able to enjoy raw, natural energy boosts.
SuperBeets powder provides the nutritional benefits of 40 teaspoons of raw beets without the earthy beet flavor. Instead, you can enjoy the benefits of beets by buying a tub of either original apple or natural black cherry flavor.
Besides the beetroot extract, a one teaspoon serving also contains 50 mg of Vitamin C, 18 mg of Magnesium, and .14 mg of Manganese. 
To activate all of the fantastic superfood benefits, combine a teaspoon of SuperBeets beetroot powder with 4-6 oz. of water or mix it with your favorite smoothie or shake.
This is one beet supplement you don't want to miss!
Pros:
GMO-Free &Gluten-Free
Vegan Friendly
No artificial flavors
Two flavors available
Cons:
No additional ingredients for energy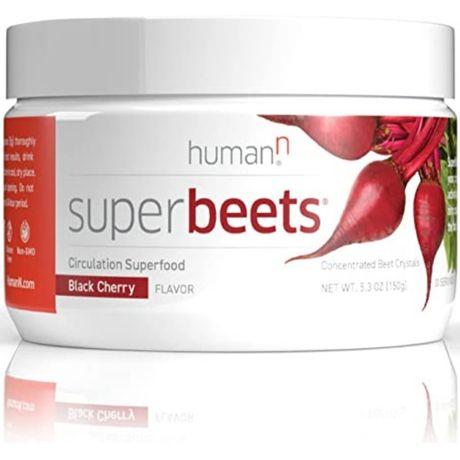 HumanN SuperBeets powder helps relax and dilate your blood vessels, which supports nitric oxide production, circulation and healthy blood pressure. The clinically studied formula…
2. Best Budget Beet Supplement: BulkSupplements Beet Powder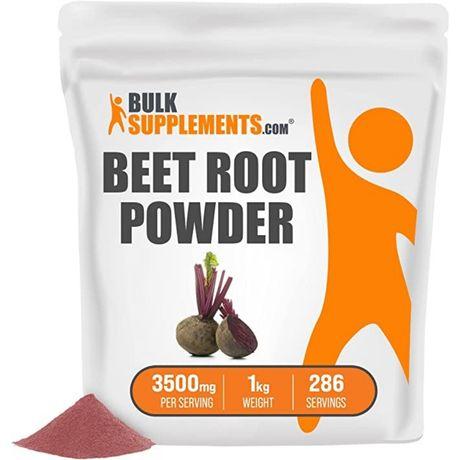 Bulk Supplements Beet Powder is our top budget pick because it offers the best pricing if you're looking to buy beetroot powder in bulk.
All of BulkSupplements products have zero fillers, additives, or artificial ingredients. This means their beetroot powder is made from 100% pure beet powder. It is also manufactured according to cGMP standards to ensure the highest quality for packing, labeling, manufacturing, and holding of its products.
Bulk Supplements beetroot powder is third-party tested to ensure compliance, standards, and consistency. BulkSupplements beet powder contains the highest quality vitamins, minerals, and antioxidants. It's also considered perfect for individuals who have dietary restrictions, such as being vegan or gluten-free.
This beetroot powder is a natural pre-workout supplement and has been shown to boost exercise performance and improve mental focus; perfect for demanding activities. 
BulkSupplements recommends adding their beetroot powder to your favorite smoothie or juice for a healthy boost of 3500 mg of beet per serving.   
Pros:
Several purchasing options
Great price
Strict manufacturing procedures
Vegan and gluten-free
Great for athletes
Cons: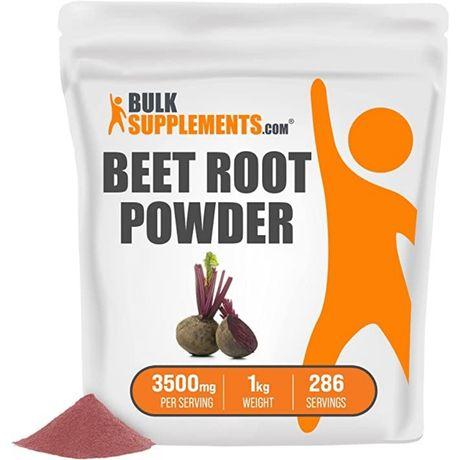 Beet Root Powder, a vegan preworkout supplement, is a rich source of dietary nitrates and antioxidants, which helps contributes to functional blood flow and support heart…
3. Strongest Beet Root Supplement: BioBeet®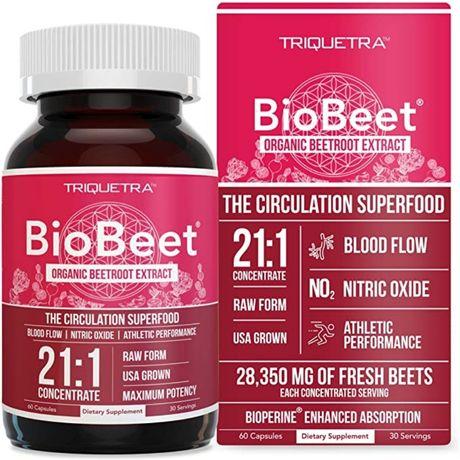 BioBeet from Triquetra is easily the most potent dosed beetroot supplement on our list.
It offers a 21:1 concentrate, meaning that each 1350 mg serving is derived from 28,350 mg of beets. 
This ratio is 21 times higher than the standard 1:1 concentration. To make this product even better, the beet extract is organically grown, harvested, and extracted from farms that follow strict organic farming standards. 
The beets in BioBeet are extracted with a cold-press technique then dried using CO2, never being exposed to heat preserves the enzymes and provides a higher-quality product. There are only two ingredients, Beetroot extract and black pepper extract (BioPerine). 
Every bottle of BioBeet is produced in cGMP-certified facilities that follow the most rigid organic and quality standards. The supplement is vegan, GMO-free, and free of solvents, fillers, binders, and artificial ingredients.
Each batch is even 3rd party tested for purity and potency, resulting in a product perfect for improving overall health and athletes. 
Pros:
Unique extraction process
Highest concentration
US grown organic beet root
Includes Black pepper extract for absorption
Solid Reviews
Cons: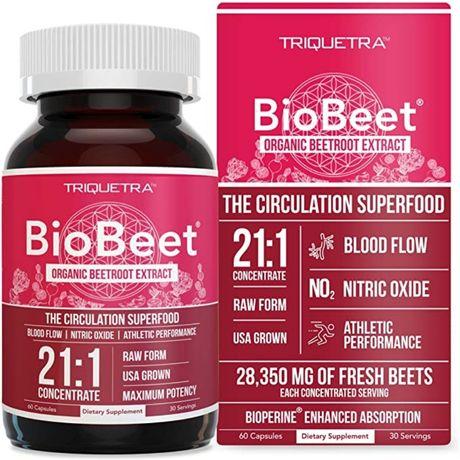 BioBeet is derived from 100% organically grown beetroot. All of our Beets are organically grown in the US…
4. Best Beetroot Tablet: Bronson Beet Root
Our best beet tablet is Bronson's Beet Root 2000mg Extra Strength tablets with 125 servings per container.
Two vegetarian capsules a day deliver 2000mg of beets (from a 4:1 extract) to help the body have healthy cardiovascular function, circulation, and endurance.
These tablets also contain small doses of Microcrystalline cellulose, croscarmellose sodium, stearic acid, magnesium stearate, silicon dioxide, hydroxypropyl methylcellulose, and polyethylene glycol.
Bronson, a supplement company, has been in business for over 60 years and takes pride in its supplements by having them laboratory tested to ensure that every tablet is non-GMO, gluten-free, and soy-free. 
Every product is cGMP premium standard, which is a rigorous testing procedure to ensure the purity, potency, and integrity of their beetroot supplement formula. Bronson products are in-house tested and carefully manufactured by trained professionals in their state-of-the-art facility in Hauppauge, New York. 
These procedures and safety measures ensure that there are no ingredients derived from animals and are vegan/vegetarian friendly.
The capsules of beet root powder break down easily on the tongue, making them easy to digest and absorb for maximum effectiveness. 
Pros:
Great reviews
Reasonable price
Easily digestible 
Free returns
High-quality
Cons:
Not made with organic beetroot powder supplements
Bronson Beet Root provides 2000 MG of Beets per serving (from 4:1 extract) to help the body maintain healthy cardiovascular function, circulation and overall stamina*…
5. Best Beet Root Blend Supplement: 1MD Nutrition CardioFitMD
CardioFitMD from 1MD Nutrition is the all-in-one, doctor-formulated, sugar-free beetroot blend supplement with a broad-spectrum fiber, prebiotic blend, and twenty essential vitamins and minerals.
CardioFitMD contains a combination of 2000mg of beetroot powder and 2000mg of beetroot juice powder.
CardioFitMD proprietary blend of soluble and insoluble fiber is beneficial for heart, digestive, and overall body health.
To make CardioFitM an even better product, it is also gluten-free, dairy and peanut-free, non-GMO, keto and paleo-friendly, and 100% vegan friendly. 
Just one scoop (16 grams) of this nourishing, vegan health powder helps promote cardiovascular, circulatory, immune, and digestive health while supporting healthy weight management, stamina, and energy.
Additionally, the flavor (berry lemonade) and texture are fantastic, making it easy to enjoy every day.
Best of all, CardioFitMD offers an impressive money-back guarantee, which shows us they genuinely believe in their product.
Pros:
Beetroot powder blend
Fiber blend
Non-GMO
Vegan
Contains essential vitamins and minerals
Cons:
CardioFitMD is the ultimate, all-in-one superfood drink with a broad-spectrum fiber and prebiotics blend, Bacillus coagulans probiotic, and 20 key letter vitamins and minerals, to provide balanced nutrition every day*…
6. Best Beet Gummy Supplement: HumanN SuperBeet Heart Chews
HumanN Superbeets heart chews is a daily supplement designed to promote heart health, nitric oxide production, and normal blood pressure.
This is a fantastic alternative for individuals who don't like drinking a lot of juices or smoothies and prefer a tasty gummy to eat.
Each serving of two chews has 40 calories and nine grams of carbs per serving. Each serving also contains 500 mg of beetroot powder and 150 mg of French grape seed extract. 
The unique addition of French seed extract helps prevent the breakdown of nitric oxide by free radicals, giving you more heart health support. Each soft gummy is backed by real science to deliver a daily, plant-based beetroot supplement. 
The non-GMO chews have a delicious and natural pomegranate-berry flavor, and there are no artificial sweeteners. This gummy supplement is vegan and is GMP-certified with no soy, dairy, or gluten.
SuperBeets Heart Chews are backed by a 90-day money-back guarantee, making these a fantastic option for anyone looking for a chewable beetroot supplement. 
Pros:
Great flavor
Soft, gummy candy consistency
Non-GMO
Decent pricing
Clinically studied health support
Cons:
It doesn't contain a hefty dose of beetroot per serving
Powered by clinically researched French Grape Seed Extract, the unique antioxidant compound in SuperBeets Heart Chews delivers nearly 2x MORE effective blood pressure support than a healthy lifestyle alone*…
7. Best Beetroot Capsules: NusaPure Beet Root
NusaPure Beetroot powder capsules contains 300 mg of red beetroot at a 20:1 ratio, which is equivalent to 6,000 mg of fresh beetroot.
This superfood supplement is a natural nitric oxide booster that can help maintain healthy circulation, lower blood pressure, and increase energy levels.
There are 200 capsules per container, and one capsule per serving is recommended. The only other ingredient is the 10 mg of black pepper extract at a 4:1 ratio, which improves bioavailability and absorption.
NusaPure states that their formula is crafted with high quality, clean, vegan/vegetarian friendly, and non-GMO ingredients to ensure that customers have a great product. The plant-based capsules are made without soy, dairy, or gluten and produced in a GMP-certified facility for the highest quality standards.
To hit the recommended dosage of 1000 mg per day, increase the daily intake to three capsules per day. 
Pros:
Extra strength extract formula
Manufactured in the USA
200 day supply
Great value
High-quality ingredients
Cons:
Daily serving size is underdosed
Powered by clinically researched French Grape Seed Extract, the unique antioxidant compound in SuperBeets Heart Chews delivers nearly 2x MORE effective blood pressure support than a healthy lifestyle alone*…
Benefits Of Beetroot Supplements:
Beetroot supplementation can provide numerous health benefits whether you drink red beet juice or use organic beet powder. Below we cover some of the benefits that can be taken advantage of. 
1.) Boost Nitric Oxide
Beets are rich in natural nitric oxide-boosting chemicals called nitrates. Your body changes nitrates into nitric oxide with a chemical reaction, which helps dilate blood vessels and stabilize blood pressure. 
Not only is this boost in nitric oxide beneficial inside the gym, but it has been shown to increase performance in the bedroom and help you go for longer.
Another benefit of nitrates is that it promotes blood and oxygen flow to your brain because of the high level of nitrates. These high levels of nitrates facilitate blood flow to the brain's frontal lobe, which is associated with memory and focus.
2.) Enhance Athletic Performance
Athletes that are always looking for a natural way to get ahead during their athletic events should consider taking a beetroot supplement. Beetroot powder has been shown to improve muscular endurance and overall performance. 
Due to beetroot powder boosting nitric oxide levels, more oxygen is delivered to the muscles while they are under stress during athletic performance. This increase in oxygen to the muscle also improves recovery, which is a fantastic benefit for athletes that need to recover quickly. 
3.) Lower Blood Pressure
Other than diabetes, one of the most common health conditions in developed countries is hypertension. Hypertension is a common condition that affects the body's arteries and can lead to stroke, cardiac diseases, and possibly death when left unchecked. 
Thankfully, one of the main benefits of taking beetroot supplements is lower blood pressure levels. This is due to beets being a rich source of inorganic nitrates.
Inorganic nitrates aid your body in producing more nitric oxide, which in turn sends signals to the muscle cells in your body to loosen up and relax. When muscles relax, your blood vessels dilate and, as a result, lower blood pressure and promotes healthier blood circulation.
4.) Anti-inflammatory
Beetroot supplements also have anti-inflammatory properties due to beets containing pigments called betalains. Inflammation can be a helpful tool if your immune system is working correctly. 
For example, your body produces free radicals during the digestive process. In small amounts, these particles serve necessary tasks such as detoxification and helping to heal injuries. 
However, too much of a good thing can become a bad thing. Increased levels of free radicals can create oxidative stress, which triggers a cascade of unwanted inflammation.
Beetroot can reduce oxidative stress by supplying free radicals with an essential electron to stabilize them to minimize damage. Anti-inflammatory properties in beetroot offer other benefits in several aspects of health, like reducing chronic inflammation that is associated with health conditions such as obesity, heart disease, liver disease, and cancer. 
5.) Support Liver Health
Your liver is responsible for many essential bodily functions, one of the most important ones being removing toxins. The betalain in beets serves as a reliable tool to aid your liver in detoxifying itself so it can function more efficiently.
In addition, betalain also aids your body in healthy bile production and maintaining flow throughout the small intestine to keep your liver functioning properly.  
Side Effects Of Beet Root Supplements
Beetroot supplements are typically safe for most adults, so if you decide to purchase a high-quality option, you should also be able to tolerate it. There is only a handful of potential side effects that you should be aware of. 
One of the concerns when taking beet supplements is the risk of the oxalates forming into kidney stones in the beets. This can happen over time due to an elevated intake of beetroot supplements, creating concentrated beet crystals in the kidney. 
In some rare cases, beetroot supplements may cause allergies in specific individuals. These allergic reactions can include rashes, hives, itchiness, chills, and fever.
Secondly, another potential side effect of beetroot supplements is low blood pressure. This typically only occurs if you are already in the group of people who deal with low blood pressure or are using medication for the condition.
Another concern is that beetroots contain FODMAPS, which is a short-chain carbohydrate that feeds the bacteria in your gut. These bacteria can cause stomach issues such as irritable bowel syndrome or other digestive problems. 
The last side effect is a minor one but worth mentioning. The red coloring that you pass through your urine and feces is the result of beetroots and their supplements. It can happen and shouldn't be a cause for alarm. 
The red coloring is known as beeturia, and it occurs when your digestive system fails to break down the pigment properly, causing your waste to turn a shade of red or pink. Just like any other supplement, please consult your physician before including red beet powder supplements in your diet.
Note: Always check with your healthcare provider before beginning any new supplementation.
Who Should Use Beet Root Supplements?
Whether raw beets, cooked beets, beetroot powder, red beet juice, or beet supplements, just about every person can see benefits from their nutritional richness in nitrates, dietary fiber, and essential vitamins and minerals.
A beetroot supplement can significantly benefit athletes who want to enhance their athletic performance since it improves blood flow and boosts nitric oxide production.
Many beetroot supplements are vegan/vegetarian-friendly, broadening the number of people that can see benefits from taking them.  
What to Consider when buying Beet Root Supplements:
When looking for the best beet powder supplements there are a few key features you should pay attention to which we highlighted below.
1. Ingredients (dosage)
The ingredient quality is the most important factor you should consider when looking at beetroot supplements. Try to find products that are certified organic so that you aren't consuming any harmful substances. 
You should also check out that the color of the beet powder is vibrant red, which is a sign of high-quality beetroot powder. Beetroot supplements have numerous benefits at specific dosages, and most high-quality options contain dosages between 650 mg to two grams per day. 
2.) Testing/Quality
Beetroot supplements are a growing market and for good reasons. The ever-increasing demand has resulted in a bunch of brands bringing their own offering to the market. 
Unfortunately, not all beetroot supplements are created equal, which makes it even more essential to be careful. Good brands want to build trust with their customers by using high-quality ingredients, transparent labels, and the best processes in making their beetroot supplements. 
Another important trait of good companies is the processes and third-party testing that goes into their products. A company that is proud and confident of its supplements will have them tested, which will guarantee their dosages, usefulness, and level of quality.
3.) Pricing
Beetroot supplements will be able to provide plenty of health benefits without putting a dent in your wallet. However, we don't recommend going for the cheapest options either, as they are more likely to contain fillers of low-quality beetroot powder. 
We recommend looking at beetroot supplements that range in the 15 to 35-dollar range. This way, you will get high-quality ingredients without being gouged by overly expensive products. 
4.) Reviews
The best way to determine whether a beetroot supplement is excellent is by reading customer reviews. To ensure that the products we recommend are good, we examine the customer reviews to assess the average rating and feelings toward the product. 
Most customers will leave honest reviews and whether they would recommend the product or not. We recommend that you check out the supplement reviews on several different sites like Google, review pages, Reddit, YoutTube, and Amazon.  
Beet Supplement FAQ
What are beetroot supplements?
Beetroot supplements are products that are made from whole beets, which have been dehydrated and made into a crystallized form. This highly concentrated beetroot powder is then used in capsules, tablets, gummies, and other forms of supplements. 
Beets have incredible nutritional power to provide assorted vitamins, minerals, and health benefits that include lowering blood pressure, better digestive health, and enhanced athletic performance. 
The taste and texture of these veggies aren't for everyone, so putting them in supplement form is a better way for those individuals to see the benefits. 
Are beetroot supplements safe?
Absolutely! Beetroot supplements from companies that use best-practice methods to extract their beet powder from the veggie. We recommend going for supplements that are organic, GMO-free, and allergen-free.
What is the best beetroot supplement to take?
The best beetroot supplements should contain all of the essential nutrients to improve heart, digestive, immune, and blood health. Overall, we recommend SuperBeets from HumanN due to its premium ingredients, superior formula, and cGMP standards.  
Which is better, beet powder or beet capsules?
Both are excellent options and will get the job done as they both offer the same vitamins and nutrients. Beet powders are better, though, due to them blending quite nicely with water and are better to take due to their absorbability.
Beet powders pass through the intestinal walls much more quickly, whereas capsules take more time to break down.  
How many milligrams of beetroot should you take a day?
The recommended dosage of beetroot is between 1000 mg to 2000 mg per day if you are taking it for cardiovascular support and overall health. If using a beet supplement to support athletic performance and improve endurance, then a higher dose of 3000 mg to 4000 mg can be taken about an hour prior to exercise.
Beetroot powder can be eaten raw, added to shakes, or taken in capsule form. This is entirely dependent on your individual preferences and how you want to choose to take beetroot powder.
Are beet root capsules good for high blood pressure?
Beetroot capsules are great for managing blood pressure levels. In fact, the presence of antioxidants and phytochemicals in beets can help to control heart diseases and hypertension. 
The nitrates that can be found in beetroot capsules convert into nitric oxide in the blood, which helps widen and relax the blood vessels. When the muscles relax, your blood vessels dilate and, as a result, lower blood pressure and promotes healthier blood circulation.
Are beet supplements as good as eating beets?
It depends. When you consume beets raw or slightly cooked, it can affect the quality and quantity of the nutrients that you get out of them. When you eat beetroot vegetables, you are more likely to get the most out of the vitamins, minerals, and fiber.
When you drink beet juice or take a supplement, you can potentially miss out on some of the benefits, especially fiber. If you plan on just taking beetroot powder to boost nitric oxide, then you won't see much of a difference between the supplement and eating beets. 
We recommend beet supplements more often because they are quick and convenient.  
When should I take beetroot supplements? 
It depends on the supplement; always check the product label to confirm the recommended time and frequency. Some athletes and lifters will take their beet supplements as a form of pre-workout, as they provide a natural energy boost and increase nitric oxide production.
If you plan on taking beet supplements every day, we recommend keeping things simple and taking them in the morning with breakfast. This is a great way to reduce the likelihood of missing a dose. However, if you want to take them for getting bigger pumps in the gym then you should consume them within the hour before your workout. 
SUMMARY
Drinking beet juice or taking beet supplements can help you to improve your brain, heart, and digestive health, as well as boost athletic performance, alleviate inflammation, and can potentially slow cancer cell growth.
In the gym, high-quality beet supplements help the body produce more nitric oxide, which is essential for pumps in the gym and for the synthesis of proteins.  
The best beet supplements can help you get more essential vitamins and minerals, even if you don't like eating the actual veggie. Even if you do like eating beets but struggle to incorporate them into your diet or don't have the time to cook them at home, you can take include beet supplements or add beet powder into your diet.